This page will be helpful for those looking for a comparison Ninja Foodi FD401 vs FD402.
FD401 and FD402 are from the same series and they have the same characteristics. The only difference is that the FD402 includes a set of silicone mitts.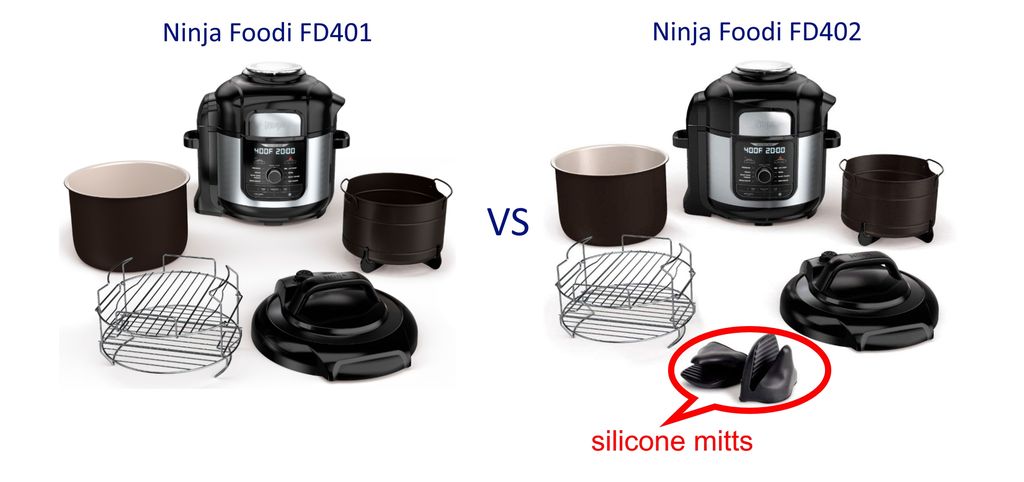 I'm a participant in the Amazon Services LLC Associates Program, an affiliate advertising program designed to provide a means for me to earn fees by linking to Amazon.com and affiliated sites.
Cooking functions of Ninja Foodi 9-in-1 Deluxe XL Pressure Cooker & Air Fryer FD400
Let me remind you what are the functions of Ninja Foodi FD400 series:
PRESSURE: Cook food quickly while maintaining tenderness.
STEAM: Gently cook delicate foods at a high temperature.
SLOW COOK: Cook your food at a lower temperature for a longer period of time.
YOGURT: Pasteurize and ferment milk for creamy homemade yogurt.
SEAR/SAUTÉ: Use the unit as a stovetop for browning meats, sautéing veggies, simmering sauces, and more.
AIR CRISP: Give foods crispiness and crunch with little to no oil.
BROIL: Use high temperature to caramelize and brown your food.
BAKE/ROAST: Use the unit like an oven for tender meats, baked treats, and more.
DEHYDRATE: Dehydrate meats, fruits, and vegetables for healthy snacks.