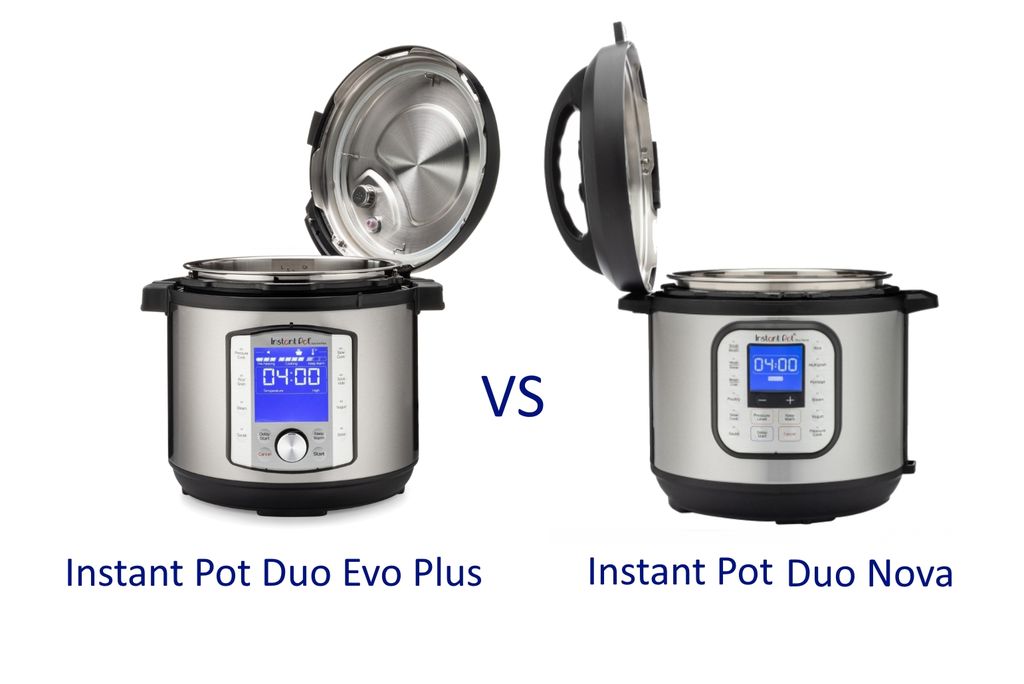 Let's see what is the difference between Duo Evo Plus and Duo Nova.
Duo Evo Plus and Duo Nova are the latest Instant Pot pressure cookers.
The Duo Evo Plus lid has been moved back for added safety when stirring food or removing a hot inner pot.
Duo Evo Plus is available in 6 and 8 quarts with power of heating element 1200W / 1400W.
Duo Nova is available in 4 sizes – 3,6,8 and 10 quarts with power 700W / 1000W / 1200W / 1400W.
Both models have a short power cord (24 to 35 inches / 0.6 m to 0.9 m). Up to 6 quarts, power cord detachable on both models. For 8 and 10 quarts, base power socket is hardwired.
Both pressure cookers have passed the stringent UL & ULC certification and protect you with 10 proven safety mechanisms and patented technologies.
Comparison of accessories included in the Duo Evo Plus and Duo Nova.
The included accessories are the same for both models – 2 silicone sealing rings, trivet/steam rack.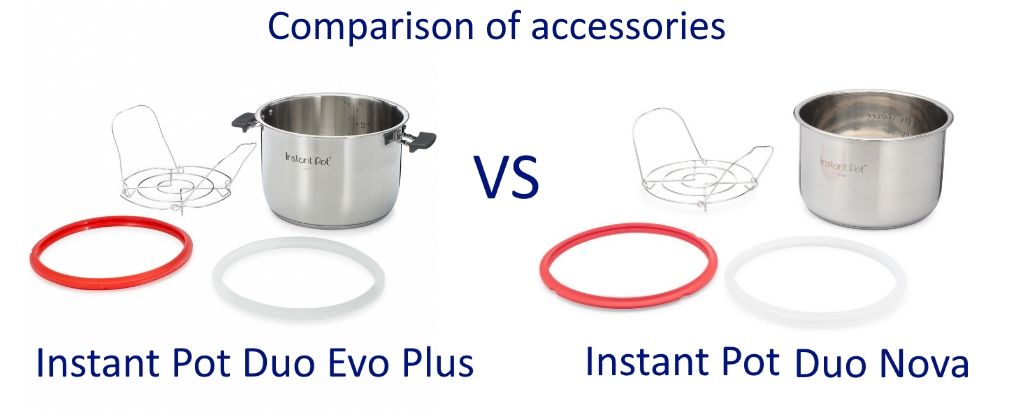 for 3 quart Duo Nova steam rack without handles
I'm a participant in the Amazon Services LLC Associates Program, an affiliate advertising program designed to provide a means for me to earn fees by linking to Amazon.com and affiliated sites. You won't pay any more if you use this link.
Duo Evo Plus vs Duo Nova the control panel comparison
The controls in these pressure cookers are different.
For Duo Evo Plus, you need to turn the dial to view smart programs, change status icons, set time, temperature and pressure levels. The control dial is also a button, so you just have to press the dial to confirm.
In Duo Nova, smart programs are selected and configured using buttons.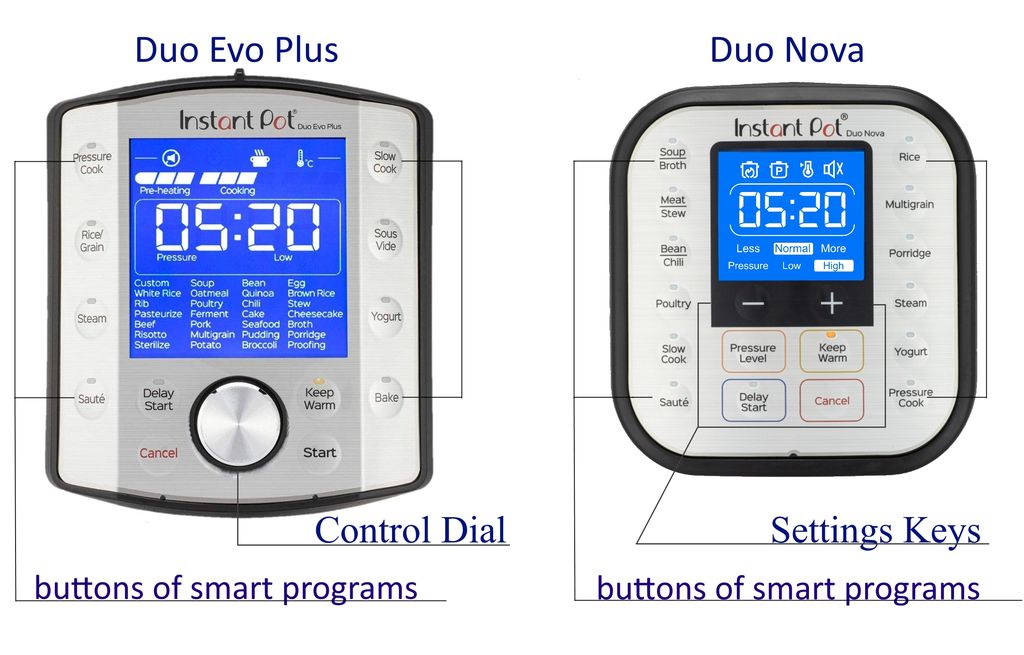 Duo Evo Plus vs Duo Nova the inner pot comparison
The Duo Evo Plus inner pot definitely has advantages over other Instant Pot models. A stove-friendly inner pot and convenient handles allow you to move between appliances as recipes demand. The handles make the inner pot easy and safe to remove. They also fix the inner pot while stirring.

Duo Evo Plus vs Duo Nova the lid comparison
The quick release button (Duo Nova) and quick release switch (Duo EVO Plus) automatically switch to sealing when the lid is closed
Duo Evo Plus has a steam release lid that diffuses and softens the release of steam.
The Duo Evo Plus lid features QuickCool technology, which helps to naturally release pressure 50% faster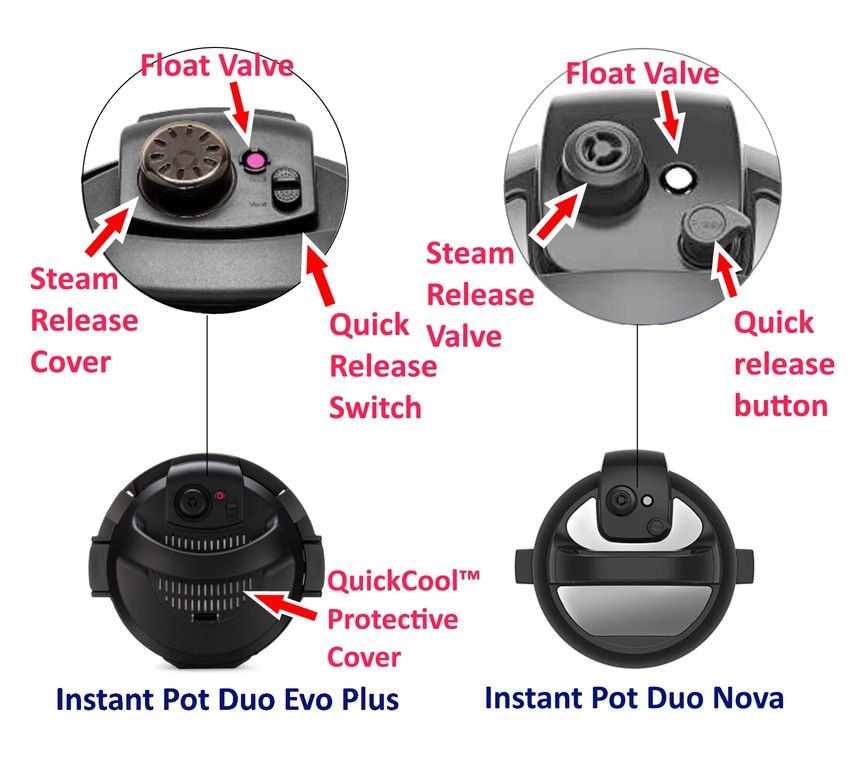 QuickCool™ Tray sold separately
below you can see how the steam release works in the Duo Evo Plus and Duo Nova
Duo Evo Plus and Duo Nova Cooking Programs Overview
When we compare both models side by side, we can see that there are 12 smart soft buttons on the front of the Duo Nova, while the Duo Evo Plus has only 9 buttons. It may seem that Duo Nova has more cooking options, in fact, it is not. Choosing any smart Duo Evo Plus program button opens a selection of preset.
For example, after clicking the Bake button, you will be presented with the following presets: Custom, Cake, Cheesecake, Pudding, Proofing.
Duo Nova has no egg-boiling or cake-baking settings, but don't worry, you can still boil eggs hard in steam mode and bake with pressure cook setting and time adjustment.
If you are planning to buy Duo Nova 3-quart, please keep in mind that it does not have programs for multigrain and poultry.
Which sizes the Duo Nova and Duo Evo Plus available in?
| | | |
| --- | --- | --- |
| | Duo Evo Plus | Duo Nova |
| 3 Quarts | | Yes |
| 6 Quarts | Yes | Yes |
| 8 Quarts | Yes | Yes |
| 10 Quarts | | Yes |
Duo Evo Plus or Duo Nova: conclusions
If you don't need sous vide and you are not interested in the abundance of culinary programs, Instant Pot Duo Nova may be your favorite. 13 built-in programs are enough for most main dishes.
Planning to make sous vide or need a wide variety of presets, then Duo Evo Plus
should be your choice, even if you're a beginner. Don't worry, you'll learn how to
cook just as quickly, and in terms of safety, the Duo Evo Plus is superior to the Duo Nova.
If you are looking for a 3-quart or 10-quart size, then the Duo Evo Plus is not for you.